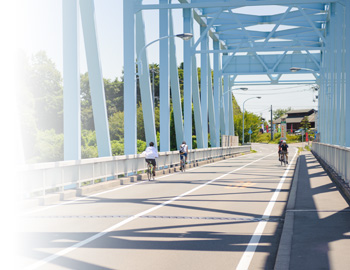 Cycling guidance
Akinada Tobishima coastal highway cycling course doesn't have too many ups and downs and it's easy to ride even for beginners. The traffic is not so crowded. Road signs lead you through Mito-dai passage (Shimokamagarijima) and you will have the opportunity to enjoy the sight of many beautiful islands of Setouchi and the sea breeze. It is a refreshing cycling route.
The entire length of this route is 46.5 Km (The maximum altitude difference: 67m). The expected time required is 185 minutes with the bicycle (69 minutes with the car). (*If your start point and finish point is Akinada Bridge toll booth, you will go along the coastline highway around the island, having a travel distance of approximately 96 Km until you reach Okamura Island, which is crossed by 7 bridges.)
If you are looking for a parking lot (for transporters), note that people who are cycling shall use the parking lot in Otsu garden outskirts.
* Please note that the parking lot at Akinada bridge toll, is reserved for people who use Akinada park and management office workers. If you are cycling of doing other activities, please refrain from using this parking.